Custom Bathroom Cabinets and Vanities
You + Our designers + Our Craftsmen can create an elegant, functional custom bathroom for your home, cottage, or condo.
All of our custom-built bathroom cabinets are hand-crafted and are made-to-order. We create products according to your specifications. We believe the process is just as important as the product we provide.
Our specialities include working with a variety of materials and products to create the bathroom of your dreams. No home is complete without the perfect bathroom. A custom bathroom vanity can add elegance and style to any bathroom. Our craftsmen can create the perfect fit for your bathroom, whether you desire a complete vanity with double sinks and shelving, or a smaller unit for storage. A wide range of choices are available for your home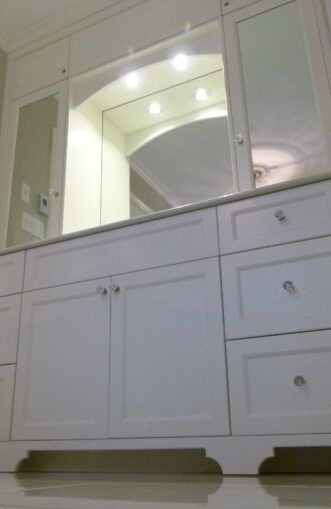 Cupboard, Vanity and Storage Doors
Doors should be as stylish as they are functional. In the Bathroom, cabinetry is the feature that will set the mood and décor for the rest of the room and be the focal point. We work with Solid Wood, MDF, Aluminium and Laminated.
Door Styles to finish your Cabinets
Mitred, raised panel, flat panel, Applied Moulding, endless combinations and sizes from the width of the frame to the type of edge.
Virtually in any finish with virtually endless finishes and techniques. Color can bring lift to sterile white kitchens of the past. Colour inside the cabinet, on the doors, in the backsplash – we will make it your dream kitchen.
Storage Solutions + Functionality
We take care and pride in our products, down to the very last detail. A great bathroom is more than design and cabinetry – each element in the room either creates or compliments the décor. We emphasize innovative design coupled with functionality. There are many pullout and built in options that truly offer custom storage solutions.
Some examples
of Custom Bathrooms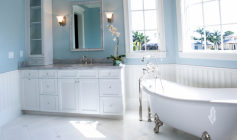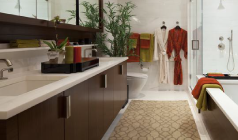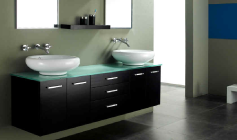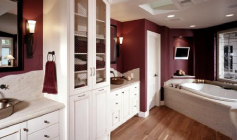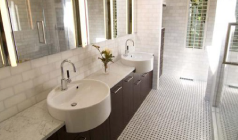 Every bathroom we design has a layout best-suited to its need. Our architects will help you select the layout, materials and storage solutions that are right for you. We are ready to help, every step of the way.