Custom Dream Closets and Storage
For more then 5 decades we've been creating closet organizers and custom storage solutions for people like you.
We've helped them reimagine spaces—discover hidden potential—and most of all, find balance. Let us show you solutions that fit your home, and your life, to a tee.
Custom closets for your bedroom can be anything from walk-in and reach-in closets to traditional wardrobes. Silhouette Custom Cabinets can help you turn a cluttered bedroom into a restful sanctuary. Your bedroom should be a place of refuge. It's where you begin each new day and where you find peace at night. Well-designed and intelligent custom closets can help turn any room into a perfect home base. Which Style Is Right for You? The best place to start is by determining which custom closets best suit your needs.
Walk-In Custom Closets
A walk-in closet is exactly what the name would imply, a closet system that's large enough for you to step into. Walk-in closets can be just a few square feet or as large as another entire bedroom. Either way, they create the same design opportunities and challenges. Since walk-ins are larger, they allow for more storage. But their corners and angles need careful planning to maximize storage ease and efficiency. Our Design Consultants are experts at creating walk-in custom closets that take full advantage of your closet's layout.
Reach-In Custom Closets
It's common to find reach-in closets in older construction and newer homes' guest bedrooms. These closets were often originally designed with just a single rod for hanging clothes. But we can utilize multiple levels of storage and incorporate shelves and drawers to help turn limited space into an ample closet for two. Reach-in closets may require creative thinking, but you can be sure we have the custom closet solutions, expertise and accessories to help you maximize the storage of your limited space.
Wardrobes
Simply put, wardrobes can create a closet where there wasn't one before. Whereas traditional closets are cut into the wall, a wardrobe from Silhouette Custom Cabinets is a finished piece, or series of pieces, installed along the wall. An armoire or wardrobe organizing system creates a feeling of open space and keeps things tidy behind closed doors. Our Design Consultants can analyze your space and help you create a wardrobe system that blends perfectly with the style of your home and brings order and functionality to your bedroom.
Some examples of Custom Closets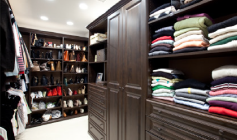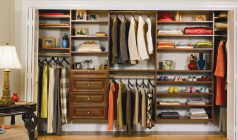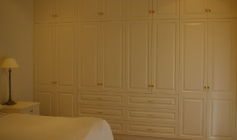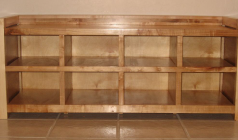 Storage Solutions for Shoes and more
Every bedroom we design has a layout best-suited to its need. Our architects will help you select the layout, materials and storage solutions that are right for you. We are ready to help, every step of the way.