You + Our designers + Our Craftsmen can create elegant custom kitchen cabinets for your home, cottage, or condo.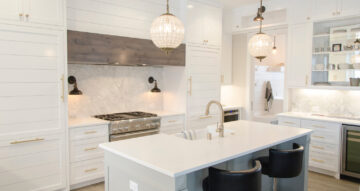 All of our custom-built kitchen cabinets are hand-crafted and are made-to-order. We create products according to your specifications.
We believe the process is just as important as the product we provide.
Our specialities include working with a variety of materials and products to create the kitchen of your dreams, which may include:
Custom Hood Canopies
Hood Canopies can be a focal point for any kitchen. We can custom design one for you or you can bring us a design which inspires you. These canopies will be enhancing the look of a proper ventilation system. That removes odours, smoke, and other air pollutants in your kitchen.
Door Types
Cupboard doors should be as stylish as they are functional. In the kitchen, cabinetry is the feature that will set the mood and décor for the rest of the home. We work with Solid Wood, MDF, Aluminum and Laminated.
Door Styles
Silhouette has the ability to make all doors in house. Depending on you taste and style choice, if you bring us a sample we can design and make if for you. Mitred, raised panel, flat panel, Applied Moulding, endless combinations and sizes from the width of the frame to the type of edge.
Custom Colour
Virtually in any finish with virtually endless finishes and techniques. Color can bring lift to sterile white kitchens of the past. Colour inside the cabinet, on the doors, in the backsplash – we will make it your dream kitchen.
Custom Posts
There are many options available for mouldings, valances, fretworks and posts in your kitchen. All to achieve a dramatic sense of architecture.
Custom Pullouts
Custom pullouts enhance the functionality of any kitchen. Placed in key locations they make access to pots, pans, boxed goods etc… much easier thus making your experience in the kitchen that much more fulfilling
Custom Mouldings
The true signature of a custom kitchen. We know the importance of detail and specialize in trim, valances and cabinet legs.
Some examples of Custom Kitchens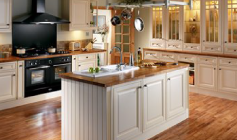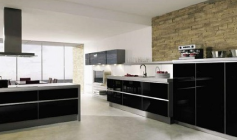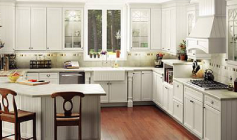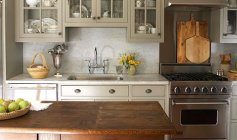 Every kitchen we design has a layout best-suited to its need. Our architects will help you select the layout, materials and storage solutions that are right for you. We are ready to help, every step of the way.
Design and Storage Solutions
Taking into consideration the organization of your storage by area of activity when planning your kitchen,
provides the following advantages:
By reducing movement between the areas of activity
Improved posture and easier movement due to functional accessories
Tasks more easily carried out due to ergonomically designated storage systems
Optimal storage of content, visible at a glance Optimal Access: the sophisticated mechanisms provide total access even in the most difficult to reach corners
Some examples of Storage Solutions: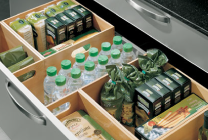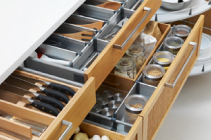 Cutlery and Utensil holders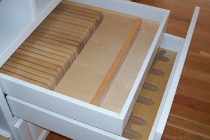 Slotted hidden Knife Block
Four Basic Kitchen Layout Styles
This concept works for kitchens that are small or open-concept. The elements are arranged along one wall and there may be an island in the middle to divide the room.
This layout has cabinets and appliances on opposite sides, creating a hallway through the kitchen space. It is easy to move through the kitchen area without encountering obstacles.
This concept places cabinetry and appliances perpendicular to each other along two walls. It maximizes small spaces and is extremely easy to work in. There may be an island or other divider present to guide traffic.
This layout uses three walls, offering abundant counter space and a small distance between workstations. It is ideal for a busy chef or larger family.