Our Superior Construction
The crafting process first begins with the care and consideration to detail that we give your project. All materials that go into your cabinets are carefully inspected for quality before they are used. The standard construction methods that we employ may be upgrades for other companies so with Silhouette Custom Cabinets you can always expect solid birch dovetailed drawers with full extension slides, soft close hardware and cabinet boxes that are full ¾" construction among others. All pieces are custom built for the client and to their precise specifications so that no two projects are ever alike. As such we are able to provide highly personalized fine-furniture, quality wares and service.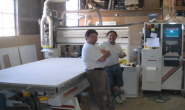 Our manufacturing process is truly a melding of old world craftsmanship meets cutting edge technology. Our state of the art CNC machine can quickly and efficiently produce door profiles, cabinets and millwork with the fine tuning of a specialized computer program. Yet it is in the hands of the experienced artisan that your cabinetry takes form.
Carefully sanded by hand and finished in the stain or paint colour of your choice, your project will have crossed the path of several highly trained professionals before it is ready to face the final check for quality to determine if they are ready to be installed. After which your cabinets are now ready to be delivered to your home, office or cottage.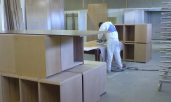 Upon arrival at their destination our team of installers will carefully cover floors and any adjacent furnishings. We treat our clients' surroundings with the same respect we would treat our own.
The installers will then lay out all pieces to further ensure that everything is correct before they start the installation process. At this point your cabinetry has been inspected every step of the way making sure that the installation process will proceed quickly and with a minimal of upheaval.

For a kitchen, the base cabinets are installed first to allow the countertop to be templated. Quartz or granite countertops will usually take 2 to 3 weeks to be fabricated so this step allows the fabrication process to move forward. The rest of the kitchen will be installed in proper sequence culminating with any trim work. Plumbing will be installed after the countertops are put in and electrical will be done as the process schedule necessitates.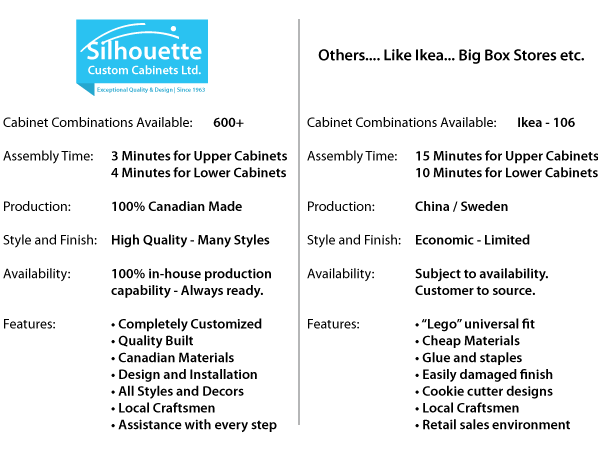 Every project we design has a layout best-suited to its need. Our architects will help you select the layout, materials and storage solutions that are right for you. We are ready to help, every step of the way.